Professional Coaches & Mentors Association
9th Annual Conference
Irvine, California

The Professional Coaches & Mentors Association (PCMA) is comprised of approximately 350 members throughout California. Pivotal Events was retained to coordinate over 40 chapter events per year, including venue and vendor logistics, website event postings, HTML email event invitation design, email marketing campaign management, and attendee registration. In addition, Pivotal Events spearheaded the production of the association's 9th Annual Conference, Cutting Edge Coaching: Your Key to Unlocking Organizational Potential.

Please find below a sampling of the marketing and administrative materials produced on behalf of PCMA.

Conference Website
Conference Program Book
Conference Direct Mail Flyer
Chapter Event Payment Receipt
Chapter Event Contact Form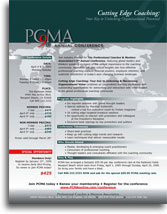 Pivotal Events' President, Tracy Kwiker, has a first rate strategic mind and is second-to-none in all things administrative.

Combined with her initiative and persistence, for PCMA, she was able to turn the unimaginable into reality.
Pat Hansen
Past President, PCMA
Orange County Chapter
Executive Coach