How should you evaluate the most effective route for taking an event from start to finish?

While working on the annual conference of the Southern California Mediation Association (SCMA), we discovered that the organization's data management system was insufficient for our needs. Although it would have been more efficient to use our own online registration system, it was not an option to split the organization's data.

So we forged ahead. As a workaround, we manually reviewed each transaction - a process that added endless hours to our time commitment. After the event, we produced a comprehensive analysis of the data management system, which went beyond conference-related issues to the broader ones affecting the organization as a whole.

Even if it means foregoing a shortcut for a longer route, Pivotal Events understands the need to follow your roadmap - your culture, your strategy, your policies, and your processes - minding both the written and unwritten rules of the road. To guarantee that your event is always in sync with your business, we take stock of where you are and where you want to go, always traveling with you, never off-roading it alone.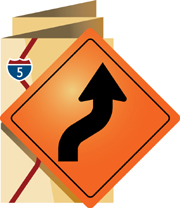 The staff at Pivotal Events made sure that every step they took while planning our annual conference fit into and advanced the overall strategic plan of SCMA.

Both the event and the organization greatly profited from their involvement.
Jeff Kichaven
Past President, SCMA
Mediator, JAMS