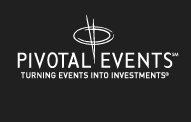 Tracy E. Kwiker, President & Founder
In 2002, after a decade of volunteer leadership on behalf of a broad spectrum of alumni associations, professional societies, and charities, Tracy Kwiker founded Pivotal Resource, a full-service non-profit management company providing general management, accounting, governance, membership, marketing communication, and event management services to several chapters of Young Presidents' Organization (YPO) and World Presidents' Organization (WPO) as well as a number of large-scale professional associations and charities.



Over a nine-year period, the company evolved into Pivotal Events, a full-service event management company that produced regional and international educational conferences, award winning executive retreats and "exclusive encounters," and unparalleled networking events that repeatedly maximized the financial and business return for clients.

In July 2010, after 9 years in business, Tracy closed Pivotal Events to join PsomasFMG, a developer of large-scale solar installations for public agencies and municipalities as the company's Vice President of System Operations. In July 2012, Tracy transitioned to Vice President of Community Relations and was appointed Executive Director of the Solar Foundation for Schools, a 501(c)(3) established by PsomasFMG to fund college scholarships, serve the educational needs of at-risk youth, and develop solar-related educational programming that fosters scholastic excellence.

Prior to founding Pivotal Events, Tracy served as the Director of Customer Relationship Management for Mercata, Inc., an e-commerce start-up where she developed and managed the company's retention and installed base marketing programs. Before joining Mercata, Tracy spent three years with Toys R Us, during which she managed store operations for 13 stores in the Pacific Northwest representing $135 million in sales volume. Tracy started her professional career in Moscow, Russia, serving as Director of Marketing for Perestroika Joint Venture, the first Russian-American joint venture dedicated to developing, leasing, and managing commercial real estate for multinational companies.

Tracy has contributed her time and expertise over the past 20 years as a volunteer leader for the Harvard Business School Association of Southern California (HBSASC) and the HBSASC Scholarship Fund, the Harvard Business School Club of Puget Sound (HBSPS), ProVisors, the National Council of Jewish Women, and the Forum for Women Entrepreneurs.

Tracy graduated with a Bachelor of Arts from Tufts University where she was awarded Summa Cum Laude and Phi Beta Kappa. Tracy received her MBA from Harvard Business School in 1995.




The Pivotal Events office has permanently closed. The company is no longer able to respond to prospective client- or vendor-related issues. To reach Tracy Kwiker for personal or other matters not related to Pivotal Events, please reach out to her via LinkedIn at www.linkedin.com/in/tracykwiker/.