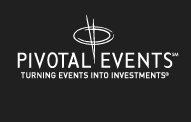 PIVOTAL EVENTS SELECTED TO PRODUCE RECEPTION FOR THE WESTERN PENSION & BENEFITS CONFERENCE 2010 ANNUAL MEETING

LOS ANGELES (March 8, 2010) – Pivotal Events, an event management firm specializing in the production of business events, has been selected to produce the Western Pension & Benefits Conference (WP&BC) cocktail reception to be held at Lucky Strike Lanes & Lounge at L.A. Live. The cocktail reception is being organized in conjunction with the Western Benefits Conference, a combination of the WP&BC Annual Meeting and the American Society for Pension Professionals and Actuaries (ASPPA) Summer Conference.

Western Pension & Benefits Conference Los Angeles Chapter Past President and 2010 WP&BC WBC Program Chairman, Mike Anderson commented, "Western Pension & Benefits Conference is thrilled that Pivotal Events is involved in this year's Western Benefits Conference. Hosting a cocktail reception at Lucky Strike Lanes and Lounge, a recommendation offered by Tracy Kwiker, the owner of Pivotal Events, will offer the members of Western Pension & Benefits Conference the opportunity to network with fellow members in a more intimate, fun environment."

About Western Pension & Benefits Conference 2010
The Western Pension & Benefits Conference (www.westernpension.org) was founded in San Francisco in 1954 to address the educational needs of pension specialists. Through the years, WP&BC expanded its scope to include those with responsibilities in the health and welfare fields. Today, WP&BC is recognized as the premier educational and professional organization in the western United States for the dynamic field of employee benefits. They now have nearly 2,000 members located within 13 chapters. Their purpose is to educate, provide information, and foster sound principles of benefit plan governance within the industry.