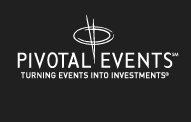 TRACY KWIKER, PRESIDENT OF PIVOTAL EVENTS, MODERATED "ARE YOU READY FOR ANYTHING – DISASTER PREPAREDNESS FOR EVENT PLANNERS" AT THE JUNE 2009 BIZBASH LOS ANGELES EVENT STYLE EXPO

LOS ANGELES (June 10, 2009) – Tracy Kwiker, president of Pivotal Events, an event management firm specializing in the production of business events, served as the moderator for the "Are You Ready For Anything – Disaster Preparedness for Event Planners" panel at the June 2009 BizBash Event Style Expo in Los Angeles.

Ms. Kwiker was joined by two speakers, Sylvia Wildfire Goldberg, president of On Call Medic, and Anna Winningham, vice president of operations for Risk Control Strategies. The presentation covered practical knowledge and tools event planners need in order to plan for and address the most common medical emergencies, natural disasters, and security risks encountered in the event planning profession.

"After producing such a successful emergency preparedness event on BizBash's behalf in November 2008, it was clear we wanted Tracy Kwiker to moderate our emergency preparedness panel at the June 2009 BizBash Expo," commented Richard Aaron, president of BizBash Media New York. "We knew she would deliver a great educational program."

About BizBash Media
Since its founding in 2000, BizBash Media (www.bizbash.com) has become the industry's leading source for inspiration, smart marketing strategies, and useful tools, helping to revolutionize how event professionals get ideas and connect with each other. The company publishes magazines, hosts Web sites, and produces trade shows for the event industry in New York, Los Angeles, Washington, D.C., Florida, Toronto, and Chicago.