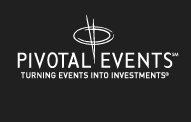 PIVOTAL EVENTS SERVES AS EXECUTIVE PRODUCER FOR BIZBASH MEDIA'S "EMERGENCY PREPAREDNESS FOR EVENT PLANNERS SYMPOSIUM" AT PARAMOUNT STUDIOS

LOS ANGELES (November 12, 2008) – Pivotal Events, an event management firm specializing in the production of business events, served as Executive Producer for BizBash Media's "Emergency Preparedness for Event Planners Symposium" held at Paramount Pictures.

"BizBash is thrilled that Pivotal Events agreed to produce the 'Emergency Preparedness for Event Planners Symposium,'" shared David Adler, CEO of BizBash Media. "The quality and prominence of the speaker resources secured by Pivotal Events afforded BizBash the opportunity to provide a truly invaluable educational service to the Los Angeles events community."

The Symposium drew hundreds of Southern California event planners and featured a panel of experts who tackled how to prepare for and successfully address personal emergencies, natural and manmade disasters, security issues, and transportation crises. "BizBash has decided to take a leadership role in educating the industry on emergency preparedness. We are honored that BizBash selected us kickoff this important nationwide initiative," commented Tracy Kwiker, President of Pivotal Events.

About BizBash Media
Since its founding in 2000, BizBash Media (www.bizbash.com) has become the industry's leading source for inspiration, smart marketing strategies, and useful tools, helping to revolutionize how event professionals get ideas and connect with each other. The company publishes magazines, hosts Web sites, and produces trade shows for the event industry in New York, Los Angeles, Washington, D.C., Florida, Toronto, and Chicago.

About Pivotal Events
Pivotal Events (www.pivotalevents.com) is a full-service event management company partnering with corporations, professional service firms, associations, and charities to produce educational conferences, sales meetings, seminars, executive retreats, exclusive encounters, networking events, galas, golf tournaments, trade shows, and e-learning programs that deliver a return on their clients' event investment.