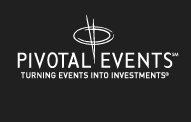 TRACY KWIKER, PRESIDENT OF PIVOTAL EVENTS, PRESENTED "THE BUSINESS OF EVENTS – WHAT EVERY PLANNER NEEDS TO KNOW "AT THE JUNIOR LEAGUE SUPER SATURDAY

LOS ANGELES (October 11, 2008) – Tracy Kwiker, president of Pivotal Events, an event management firm specializing in the production of business events, presented "The Business of Events – What Every Planner Needs to Know" at the Junior League Super Saturday event.

During the presentation, Ms. Kwiker covered the key business risks and liabilities faced by planners and how they can best mitigate them. Highlights included cash management, credit card protection, agreements with vendors, sponsors, speakers, and volunteers, and insurance issues.

"After seeing Tracy present at the Legal Marketing Association, I knew that she would be an ideal presenter for Junior League's Super Saturday event," commented Renee Barrett, President of Awareness, Action, Accountability and Junior League event volunteer. "We received very positive feedback from our members who attended her session."

About Junior League of Los Angeles
The Junior League of Los Angeles is an organization of women committed to promoting volunteerism, developing the potential of women, and improving the community through the effective action and leadership of trained volunteers.

About Pivotal Events
Pivotal Events (www.pivotalevents.com) is a full-service event management company partnering with corporations, professional service firms, associations, and charities to produce educational conferences, sales meetings, seminars, executive retreats, exclusive encounters, networking events, galas, golf tournaments, trade shows, and e-learning programs that deliver a return on their clients' event investment.