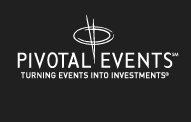 PIVOTAL EVENTS SELECTED AS EXECUTIVE PRODUCER FOR THE BENJAMIN S. CROCKER SYMPOSIUM 2009

LOS ANGELES (September 2, 2008) – Pivotal Events, an event management firm specializing in the production of business events, was selected to produce the Benjamin S. Crocker Symposium on Real Estate Law & Business, to be presented in the spring of 2009 by the Real Property Section of the Los Angeles County Bar Association and the Richard S. Ziman Center for Real Estate at UCLA.

Sponsored by major Southern California law firms and businesses involved in a wide range of real estate acquisitions, sales, development, financing, leasing, and management, the Symposium is recognized as the premier interdisciplinary gathering of professionals involved in the real estate industry in Southern California. The Symposium's educational program offers attendees in-depth intelligence on the latest real estate trends, creative and practical analysis of current real estate challenges, and a broad range of information covering both the legal and business facets of the real estate industry.

"We are delighted to have Pivotal Events and its President, Tracy Kwiker, on board. With Tracy's extensive business experience, we are well positioned to further our goal of expanding the business component of the Symposium to complement the strong legal component. We expect to achieve more balanced business and law programming and broader marketing reach to the business sector with Tracy's help," explained Donald Nanney, Real Property Section Chair of the Los Angeles County Bar Association.

About the Crocker Symposium
The Crocker Symposium (www.crockersymposium.com) was first presented as a real estate law symposium by the Real Property Section of the Los Angeles County Bar Association. The Symposium was expanded into a "law and business" format commencing with the program in 2003, including education for real estate attorneys and members of the real estate business community. In 2007, the Section partnered with the Richard S. Ziman Center for Real Estate at UCLA (a joint center of the UCLA Anderson School of Management and the UCLA School of Law) to co-sponsor the 2008 Crocker Symposium. The 2009 program will be the 38th Annual Crocker Symposium.

About Pivotal Events
Pivotal Events (www.pivotalevents.com) is a full-service event management company partnering with corporations, professional service firms, associations, and charities to produce educational conferences, sales meetings, seminars, executive retreats, exclusive encounters, networking events, galas, golf tournaments, trade shows, and e-learning programs that deliver a return on their clients' event investment.