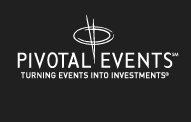 TRACY KWIKER, PRESIDENT OF PIVOTAL EVENTS, SPEAKER AT THE ANNUAL CONTINUING MARKETING EDUCATION CONFERENCE PRESENTED BY THE LOS ANGELES CHAPTER OF THE LEGAL MARKETING ASSOCIATION

LOS ANGELES (July 18, 2008) – Tracy Kwiker, President of Pivotal Events, an event management firm specializing in the production of business events, presented "The Fundamentals of Event Planning" and "Turning Events into Investments" to 200 legal marketing professionals at the Los Angeles Legal Marketing Association Chapter's Annual Education Conference.

"I am honored that LMA-LA invited me to deliver not only one, but two presentations at its annual conference," remarked Tracy Kwiker, President of Pivotal Events.

The conference titled "Transform Your Marketing Cost Stream into a Business Development River," took place at the Beverly Hills Hotel and assembled a broad array of topical and informative programs for marketing professionals specializing in the legal marketing industry. "Tracy provided equally compelling insights and strategies during both her junior level fundamentals presentation as well as her advanced level event strategy session. She was terrific to work with and her dual presentations lended a much needed component to this important one-day seminar," shared LMA-LA Conference Chair Melissa Bailey. "We received tremendous feedback from our members about Tracy's portion of the day's events."

About LMA
The Legal Marketing Association (LMA) is a nonprofit professional association dedicated to serving the needs and maintaining the professional standards of those involved in marketing for the legal profession. The association, founded in 1985, provides its members with professional support and education as well as opportunities for intellectual and practical information exchange.

About Pivotal Events
Pivotal Events (www.pivotalevents.com) is a full-service event management company partnering with corporations, professional service firms, associations, and charities to produce educational conferences, sales meetings, seminars, executive retreats, exclusive encounters, networking events, galas, golf tournaments, trade shows, and e-learning programs that deliver a return on their clients' event investment.