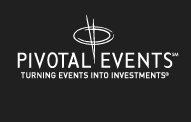 PIVOTAL EVENTS SELECTED TO PRODUCE IMAP'S SPRING 2009 GLOBAL CONFERENCE

LOS ANGELES (July 8, 2008) – Pivotal Events, an event management firm specializing in the production of business events, was selected to produce IMAP's Spring 2009 Global Conference.

"When I learned that Los Angeles had been selected as the host city for IMAP's Spring 2009 Global Conference, I knew that I wanted Pivotal Events involved," explained Gordon Gregory, Founder, Chairman, and Managing Director of Los Angeles based firm Mosaic Capital LLC and IMAP Director. "As the event 'host', it is crucial to me that IMAP's on-the-ground planner can provide exceptional logistical support and knowledge of the local market. Pivotal Events is equally strong in both areas."

The Conference, expected to draw 150 members from North and South America, Eastern and Western Europe, Australia, and Asia, will feature three days of educational programming, networking, social programming, and IMAP administrative meetings.

About IMAP
IMAP (www.imap.com) is an exclusive, global organization of leading merger and acquisition advisory firms. Formed in 1973, IMAP is comprised of 56 firms with more than 70 offices in 35 countries including North and South America, Eastern and Western Europe, Australia, and Asia. IMAP has created a dynamic organization that offers clients seamless cross-border and global coverage.

About Pivotal Events
Pivotal Events (www.pivotalevents.com) is a full-service event management company partnering with corporations, professional service firms, associations, and charities to produce educational conferences, sales meetings, seminars, executive retreats, exclusive encounters, networking events, galas, golf tournaments, trade shows, and e-learning programs that deliver a return on their clients' event investment.