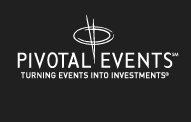 PIVOTAL EVENTS SERVES AS ON-SITE EVENT MANAGER FOR JUNE 2008 BIZBASH LOS ANGELES EVENT STYLE EXPO

LOS ANGELES (June 5, 2008) – Pivotal Events, an event management firm specializing in the production of business events, served as on-site event manager for the June 2008 BizBash Event Style Expo held at the Los Angeles Convention Center.

The Expo offered more than 2,000 event and meeting planners the opportunity to network, learn, and find new ideas through education sessions, exhibits, an award presentation, and a cocktail reception. CEO of BizBash Media David Adler explained, "With all that you have going on at a trade show of this magnitude, it is essential to have a highly competent professional at its epicenter, making sure that all of the moving parts are working seamlessly. Pivotal Events was the glue that brought our show together and made it such a success."

Pivotal Events provided vendor, volunteer, concierge program, educational session, and entertainment coordination services and support. "Over the past few months, we interfaced with more than 100 vendors and literally hundreds of invited guests, attendees, and speakers on the phone, via email, and on-site. Even though our role was technically behind the scenes, we are truly honored to have been selected to be the face of BizBash Los Angeles" explained Pivotal Events President Tracy Kwiker.

About BizBash Media
Since its founding in 2000, BizBash Media (www.bizbash.com) has become the industry's leading source for inspiration, smart marketing strategies, and useful tools, helping to revolutionize how event professionals get ideas and connect with each other. The company publishes magazines, hosts Web sites, and produces trade shows for the event industry in New York, Los Angeles, Washington, D.C., Florida, Toronto, and Chicago.

About Pivotal Events
Pivotal Events (www.pivotalevents.com) is a full-service event management company partnering with corporations, professional service firms, associations, and charities to produce educational conferences, sales meetings, seminars, executive retreats, exclusive encounters, networking events, galas, golf tournaments, trade shows, and e-learning programs that deliver a return on their clients' event investment.