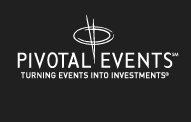 TRACY KWIKER, PRESIDENT OF PIVOTAL EVENTS, PRESENTED "THE BUSINESS OF EVENTS: WHAT EVERY PLANNER NEEDS TO KNOW" AT THE JUNE 2008 BIZBASH LOS ANGELES EVENT STYLE EXPO

LOS ANGELES (June 5, 2008) – Tracy Kwiker, President of Pivotal Events, an event management firm specializing in the production of business events, presented "The Business of Events: What Every Planner Needs to Know" at the June 2008 BizBash Event Style Expo in Los Angeles.

The presentation provided an overview of the key risks and liabilities planners and event hosts face when producing an event and offered suggestions on how to mitigate them. More than 150 planners attended the session.

"I feel privileged that BizBash selected me to present on such an important subject to our industry," commented Tracy Kwiker, President of Pivotal Events. The Expo, host to more than 200 exhibitors and 2000 attendees from Southern California, offered special event and meeting planners a chance to connect, find new ideas, and come away with take home value. "A strong educational program is a cornerstone of our tradeshows," commented Richard Aaron, President of BizBash Media New York. "With an MBA from Harvard and 20 years of business experience, Tracy's participation in our program reinforces our message that event planning is about great style and great substance."

About BizBash Media
Since its founding in 2000, BizBash Media (www.bizbash.com) has become the industry's leading source for inspiration, smart marketing strategies, and useful tools, helping to revolutionize how event professionals get ideas and connect with each other. The company publishes magazines, hosts Web sites, and produces trade shows for the event industry in New York, Los Angeles, Washington, D.C., Florida, Toronto, and Chicago.

About Pivotal Events
Pivotal Events (www.pivotalevents.com) is a full-service event management company partnering with corporations, professional service firms, associations, and charities to produce educational conferences, sales meetings, seminars, executive retreats, exclusive encounters, networking events, galas, golf tournaments, trade shows, and e-learning programs that deliver a return on their clients' event investment.